What does an overnight camp for children with cancer and their siblings look like during a global pandemic?  Is it possible to safely social distance in a place specifically designed for social interaction?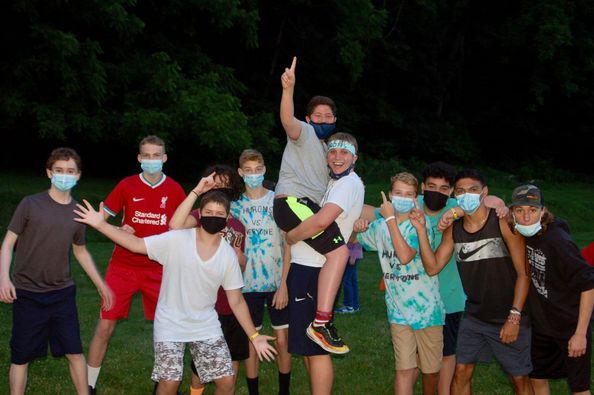 We created the perfect recipe for success!  The first ingredient was the most dedicated group of counselors and admins in the industry.  Our staff this summer was the staff of dreams.  100% of the staff were vaccinated prior to arriving at camp and they successfully passed seven rounds of COVID testing before and during camp. They completed lifeguard training, archery training, ropes training, and became experts on our Staff Manual prior to the start of the season.  Dozens of camps closed this summer when their staff quit due to the pressure of following COVID protocols.  A national camp convention will be held in October focusing on addressing the staffing crisis that camps are currently facing.  Our staff answered the call.  They did not leave Happiness Is Camping grounds from June 19th through August 1 to create a COVID bubble.  Our counselors never felt "stuck at camp" but chose to look at the bubble as "staying safe at camp to protect our campers".  The team implemented our COVID plan better than we could have ever expected and took phenomenal care of our campers. Many of our staff were former campers or siblings, but three of the team joined us for the first time in our most challenging year because of their belief in our mission.  We are so proud of our counselors and admins and hope they all consider returning to camp next summer.
Parent and camper cooperation were the next ingredient in our recipe.  We would never have been able to conduct camp without buy-in from our parents.  Parents attended multiple Zoom meetings, got their children tested prior to camp drop-off, facilitated telemedicine appointments, isolated their kids before camp began, and instructed them about our protocols.  Some ingredients are so vital to a recipe that the end product would be ruined if it was omitted and that is exactly the role that parents played this year.
Our amazing volunteers did not hesitate to step in and lend a helping hand this summer.  We are eternally grateful!  Each session's volunteers used their precious vacation time to spend two weeks at camp assisting our staff in the cabins and in supporting admin roles.  Our volunteers are not only giving of their time, but also of their hearts.  We are privileged to have them as part of our camp family.
The Happiness Is Camping Medical Staff also did their part with physical distancing.  We moved our regular indoor infirmary to the front porch of Lakeside Lodge.  A complete outdoor infirmary office and exam room was set up and safely enjoyed by campers, doctors, and nurses alike. The Lakeside Clinic was born!