It's very important to send an ample supply of prescribed medications with detailed instructions for their dosage and use. All medications should be in their original containers. Children should bring inexpensive clothing, shoes, toiletries, jackets, etc. For those parents driving their child to camp, detailed directions are provided. Don't forget to give your child plenty of stationery, cards, and stamps to write home! Included in your confirmation packet will be information on how to contact your child(ren) via email.
Camp is a great place to wear your old clothes such as jeans, sweatshirts, or shorts. We do not require any special uniforms or equipment. Dances are held several times during the weeks of camp. Your child may want to bring along some fun, inexpensive "dress-up" clothes.
We are not responsible for lost or torn clothing or personal property. However, we will make every effort to locate your lost item.
Marking or labeling is highly recommended. It helps us to identify found articles. If anything of value is left behind, email us, call us, or fill out this form as soon as possible.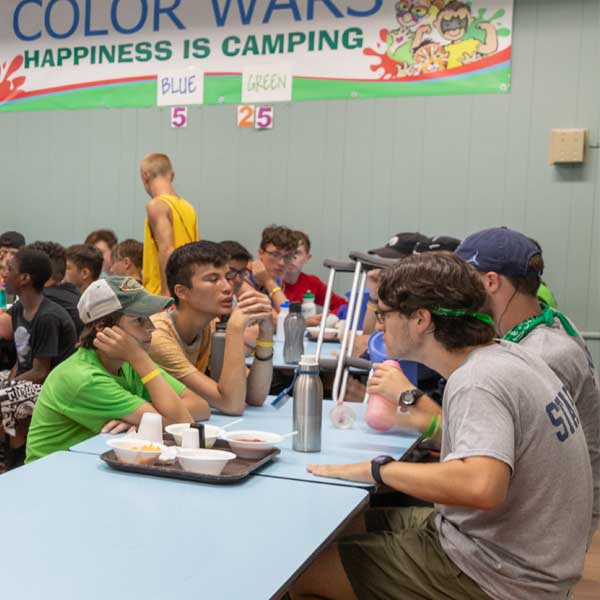 Arrival Procedures:
Drop off time is between 10am and 11am on Sundays.
We will not be able to accommodate early arrivals.
Please park in lot and proceed to check in tent for registration.
Departure Procedures
Pick up time is between 4pm and 5pm on Thursday (please arrive on time).
Please park in lot and proceed to check out tent prior to departing.
Make sure to pick up campers medication at check out tent if applicable.
PLEASE NOTE: Pick up time for Session 5 ONLY is between 10am and 11am on Friday.
Suggested Supplies for One Session:
Suitcase or Duffel Bag
Raincoat or Poncho w/ Hat
1 Warm Jacket
2 Sweaters or Sweatshirts
1-2 Pairs of Jeans
5-6 Pairs of Shorts
7 Shirts (2 Long-Sleeve)
1 Hat
2 Pairs of Shoes (Sneakers a Must)
2 Pairs of Pajamas (Medium Weight)
Pillow
8 Pairs of Socks
8 Pairs of Underpants
1-2 Swimsuits
Bath Towel
Toilet Articles in Container
Sunglasses
Favorite Toy
Sleeping Bag (or Sheets and Blanket)
1 Pair of Flip Flops
Desirable but Not Necessary Supplies:
Bug Spray
Flashlight
Paper/Stamps/Pens